Projects

Reproduction Projects

Several projects have been undertaken for clients to recreate "lost" features based on original drawings / prints

Chinese style Pagoda for Woburn Abbey
From the original plans for the garden by Repton, although the rock garden was constructed the planned Pagoda for the top was never built , following extensive renovations over the last couple of years the rock garden is now nearing completion as it was intended. The Pagoda has been constructed from Accoya® timber and was installed in 2012.
"Woburn Abbey & Gardens are delighted to announce that the completion of a pavilion designed over 200 years ago has won the prestigious New Commission category of the 2012 Hudsons Heritage Awards" 30 November 2012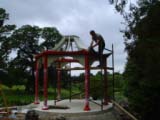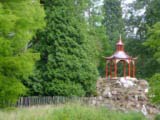 Bridge - Southwell
For the then Brackenhurst College near Southwell, constructed in green oak the bridge spans the pond by the boat house (originally thatched) and is based on the famous "Willow Pattern" pottery pattern.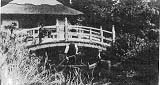 Aviary for Woburn Abbey
In 2010 presented with a sketch from Hortus Woburnensis by James Forbes (1833) and asked to recreate the central aviary in green oak, with cedar shingle roofs. Once detailed drawings had been made the second challenge was to machine the heavy oak posts which were 16 feet tall. The aviary was installed during April 2011 and is now home to Woburns collection of Budgies along with Quail and Guinea Fowl.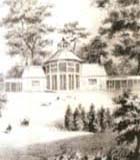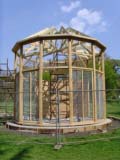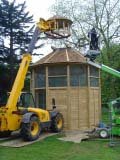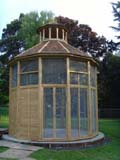 Addition to the Aviary 2018
Cone House for Woburn Abbey
2013 saw the recreation of the Cone House at Woburn.